BOEM Central Atlantic Draft Wind Energy Areas Map Now Available
The Bureau of Ocean Energy Management (BOEM) is seeking public comment on a group of eight draft wind energy areas (WEA) under consideration from Delaware to North Carolina. Portal users can view and analyze the areas, which cover approximately 1.75 million acres at sea, with the new BOEM Central Atlantic Draft Wind Energy Areas map layer, now available in the Renewable Energy theme.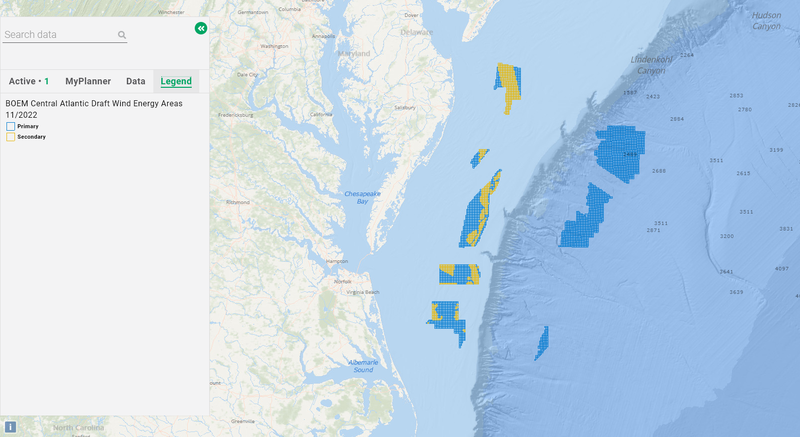 Those interested in providing comments and information regarding site conditions, resources, and multiple uses in close proximity to or within the draft WEAs can do so online by visiting BOEM's notice on Regulations.gov. BOEM may or may not offer a lease for a commercial offshore wind energy project within the draft WEAs after further government consultations, public participation, and environmental analyses. Comments are due by Dec. 16, 2022.
In the spring, BOEM published a call for information and nominations to assess commercial interest in and obtain public input on potential wind energy leasing activities in 3.9 million acres of federal waters along and beyond the continental shelf. Based on the input and analysis conducted by BOEM, the areas were reduced in size by 55 percent to the draft WEAs presented in the new map layer. Users may activate the BOEM Central Atlantic Call for Information and Nominations Area map layer in combination with the new draft WEA layer to compare them and view the changes.
The draft WEAs are depicted in the map in blue and orange. The blue areas (1.44 million acres) are BOEM's primary recommendations, areas where analysis determined that potential offshore wind development would present less conflict with other ocean uses and resources. Areas in orange (311,000 acres) are secondary recommendations, which are slightly more conflicted than the blue areas, and are where BOEM welcomes additional stakeholder perspectives.
The Renewable Energy theme also includes 40 additional maps showing areas proposed for offshore wind development, existing turbines and power cables, and electric transmission infrastructure along the coast. Browse our Data Catalog for more information.
Share this story