Case studies
We regularly hear stories about how the Portal is being used to make decisions, solve problems and improve projects throughout the Mid-Atlantic. This page will share a few of these case studies so they may provide guidance and food for thought for others' work. Please check back periodically for additional examples.
Use Examples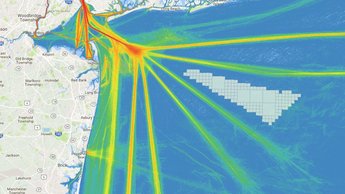 The Portal and other marine spatial planning tools were used to help design the alignment of an export power cable connecting to the first two active turbines in federal waters, located off Virginia Beach. Ocean Stories feature l
Marine planners with the U.S. Coast Guard's Fifth District used the Portal to design proposed anchorage areas to accommodate future vessel traffic in the Chesapeake and Delaware Bay vicinities. Webinar

When TE SubCom built a 4,000-mile submarine communications cable from Virginia Beach to Spain, it used the Portal to design an alignment that avoided hot spots for bottom-tending fishing activities such as dredging and trawling. Fact sheet
Gotham Whale researchers are using the Portal to identify and build awareness of potential high-risk areas for marine mammal ship strikes in the NY-NJ area. Ocean Stories feature
The Portal Team collaborated with the Mid-Atlantic Coastal Acidification Network to create a group of maps that will help researchers understand where monitoring gaps may exist in the region. Fact sheet

The Portal served as a centerpiece in a course for New York K-12 teachers dedicated to the Hudson Canyon's critical importance as a natural and economic resource. Fact Sheet
Officials in the tugboat and barge industry are using the site to plan new routes that will steer safely clear of planned offshore wind areas in the Mid-Atlantic region. Fact sheet | Ocean Stories feature
The U.S. Coast Guard is also using the Portal to help guide discussions and show maritime industry stakeholders how they prepare for the new infrastructure at sea. Fact sheet | Ocean Stories feature

How are you using the Portal? Have an interesting story about how our data helped your organization? Let us know at portal@midatlanticocean.org.
March 2019 Portal Users Panel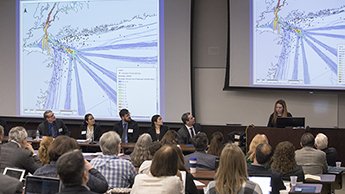 A panel of Portal users at the March 2019 Mid-Atlantic Ocean Forum shared stories of how they've used the site to solve problems and complete work projects. Click below to watch their presentations: