BOEM NY Bight Final Sale Notice Areas Now on Portal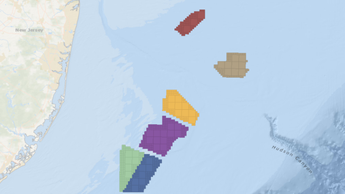 On Jan. 12, Secretary of the Interior Deb Haaland announced that the Bureau of Ocean Energy Management will hold a wind energy auction for more than 480,000 acres in the New York Bight. This will be the first offshore wind energy auction under the Biden-Harris Administration. The auction will allow offshore wind developers to bid on six lease areas – the most areas ever offered in a single auction – as described in BOEM's Final Sale Notice.
Leases offered in this sale could result in 5.6 to 7 gigawatts of offshore wind energy, enough to power nearly 2 million homes. As offshore wind technology continues to advance, these areas may have the potential to produce even more clean energy. For more information, visit the BOEM NY Bight page.
The map can be accessed in the Portal's Renewable Energy theme by clicking on the "Planning and Lease Areas" dropdown. The six auction areas are also currently shown in the BOEM Wind Planning Areas map, which includes other areas along the East Coast that are under consideration for wind energy development.
In response to concerns raised by Tribes, partnering agencies, and the public through the comment period and targeted outreach, BOEM made several changes to the areas included in the June 2021 proposed sale notice (PSN) resulting in a 22% reduction from the total lease acreage. Two maps showing the PSN areas (BOEM NY Bight Proposed Wind Energy Areas for 2021 Lease Sale and BOEM NY Bight Proposed Transit Corridors) remain in the Planning and Lease Areas collection for comparison.
Share this story