Spring Fish Data Added to Marine Life Library; Marine Mammals Updated
For the first time, users can now search the Portal's Marine Life Library for maps depicting the distribution and biomass of individual fish species in both the spring and fall seasons using methods developed by NOAA's Northeast Fisheries Science Center. In addition, the Portal's existing marine mammal species maps have been updated using the latest modeling methods.
What's New
The original "Version 1" marine life data products were released in 2016 in two steps – as roughly 100 bird, fish and marine mammal group maps within the Marine Life theme and later 3,000 individual species maps within the Marine Life Library (Species Specific) theme. The latest update provides entirely new data products for fish species caught in the NEFSC bottom trawl survey and minor updates to cetacean species data products. Most notably, spring data for fish are now available, where the Portal previously only housed fall data.

Fish
In addition to incorporating the most recent data from the NOAA NEFSC Ecosystem Surveys Branch, the new fish data products address expert and stakeholder feedback including:
Used NEFSC methods and code
New spring trawl results (in addition to fall) and standardized legends so that seasons for each species/group can be compared
Higher spatial resolution (2km grid size versus previous 10km grid size)
The resulting data products represent average annual biomass for each of 81 species in Fall 2010-2016 and Spring 2010-17. All of the Species Group products (such as Total Biomass and Species Richness for All Species, Ecological Groups, Managed Species, and Stressor Groups) have also been updated.
Users can view maps of fish groups (e.g. Forage Fish, Skates) by clicking the Marine Life theme and then clicking "Fish - Fall 2010-2016" or "Fish – Spring 2010-2016" for a dropdown list of options. To view individual species maps, click on the Marine Life Library (Species Specific) theme, click on either "Fish Biomass NEFSC Species" or "Fish Biomass NEAMAP Species," and then type in a fish name for a list of results (Note: Spring data is only available in the NEAMAP category.)
For further instruction on how to use the Marine Life Library search tool, click here or view the video below.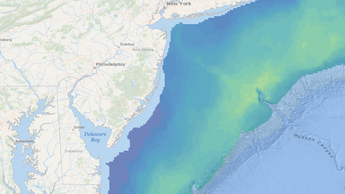 Cetaceans
This version provides updates to individual species products for several species that did not receive updates in 2018. With this update, all cetacean individual species data products now reflect the Second Generation Marine Mammal Density results (see MDAT website for details). All of the cetacean Species Group products have also been updated to reflect these changes.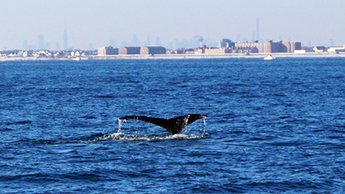 Expert Review & Documentation
As with all previous versions, marine life products have been extensively reviewed by experts in each topic and are accompanied by updated technical documentation and complete metadata which provide citations to relevant peer-reviewed reports and papers. MDAT also updated the technical report that combines information about the methods used to develop the datasets and maps into a single document. Links to the technical report and metadata are provided when viewing the data in Marine Planner or our Data Catalog.

The following documents provide detailed descriptions of updates and changes in this release for each taxa:
View Our Webinar
Our 7/31/19 webinar provided a tour of the new and improved fish and marine mammal data. The session included presentations from Emily Schumchenia of the Northeast Ocean Data Portal team; Jesse Cleary, Duke University Marine Geospatial Ecology Lab; Marta Ribera, the Nature Conservancy; and Karl Vilacoba, Mid-Atlantic Ocean Data Portal team.
Share this story