View Recommendations from Coast Guard N.J. Seacoast Port Access Route Study
Portal users can now examine a network of shipping safety routes and anchorage grounds recommended by the U.S. Coast Guard's recently published Port Access Route Study: Seacoast of New Jersey Including Offshore Approaches to the Delaware Bay, Delaware draft report. The Port Access Route Study: New Jersey/Approaches to Delaware Bay map can be found by clicking on the "USCG Proposed Areas and Studies" dropdown in Marine Planner's Maritime theme.
In 2019, the Coast Guard initiated a series of port access route studies (PARS) focused on major ports along the Atlantic Coast. These new studies supplement and build on the Atlantic Coast Port Access Route Study (ACPARS) completed in 2017. The studies are gathering a wide range of data and stakeholder input on future maritime commerce trends, Coast Guard missions, potential conflicts with offshore wind projects, port infrastructure changes and many other factors to evaluate the adequacy of existing routing measures and determine whether additional ones are necessary to safely accommodate vessel traffic. The reports recommend new shipping lanes designed to connect the ports to a broader network of fairways proposed by the ACPARS that extend from New England to Florida.
The New Jersey PARS area extends approximately 175 nautical miles seaward between Sandy Hook, New Jersey, and Ocean City, Maryland. Members of the public are encouraged to visit the Federal Register to view the report, supporting documents and instructions for submitting comments. The comment period will be open through Oct. 25, 2021.
Portal users can also view a Port Access Route Studies Areas map showing the study area (and three others in the Mid-Atlantic) as well as a Potential Fairways layer showing routes proposed by the ACPARS. Users can click any of these areas on the map for pop-ups containing links to their Federal Register notices and documentation. Portal users may also activate the Routing Measures map layer in the Maritime theme or use the Nautical Charts basemap to view connections between the PARS proposals and existing traffic lanes, fairways, separation zones and precautionary areas.
If you have any questions about using the Portal or its data, email portal@midatlanticocean.org.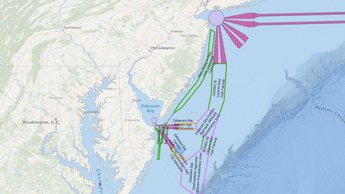 Watch Webinar for More Info
Learn more about the New Jersey PARS draft report and other PARS under way in the Portal's Sept. 14 "How Tuesday" webinar below. On the webinar, representatives of the Coast Guard provided updates on the PARS and answered participants' questions in an open Q&A session. The webinar featured demonstrations on how to access and use the Coast Guard maps on the Mid-Atlantic and Northeast ocean data portals and a Coast Guard Navigation Center GIS Web App.
Presenters included John Stone, Office of Navigation at Coast Guard Headquarters in Washington, D.C.; Capt. Maureen Kallgren, U.S. Coast Guard District 5, Portsmouth, Virginia; Lt. Cdr. Michael Wysong, U.S. Coast Guard District 1, Boston; Lt. Cdr. Ian Hanna, U.S. Coast Guard Navigation Center, Virginia; Karl Vilacoba, Monmouth University Urban Coast Institute/MARCO Portal team; and Emily Shumchenia, Northeast Regional Ocean Council.
Share this story