Introducing the Indigenous Nations, Communities & Cultures Map Collection
The Mid-Atlantic Ocean Data Portal has assembled an Indigenous Nations, Communities & Cultures map collection to assist with ocean planning and increase awareness of the region's deep American Indian heritage and history.
The collection contains six interactive map layers which can be accessed in the Portal's Administrative theme. It includes three maps based on federal datasets and two created by the Indigenous-led nonprofit organization Native Land Digital, the organization behind Native-Land.ca. The Portal's previously published map showing the headquarters locations of state and federally recognized tribes in the Mid-Atlantic is also included.
The collection was created with guidance from Mid-Atlantic Committee on the Ocean (MACO) Tribal Lead Kelsey Leonard of the Shinnecock Indian Nation, who has long advocated for the addition of data that would improve communication between Tribal, state and federal entities.
"As government agencies move forward with decisions on ocean uses, such as where offshore wind energy development should be permitted, this data can help them identify which Tribal nations in that region should be contacted and invited to participate in the process," Leonard said. "By adding this Indigenous content, we're also making the Portal more useful to tribes for their work and encouraging them to further explore all of its other relevant content, such as data for marine life habitats and ocean conditions."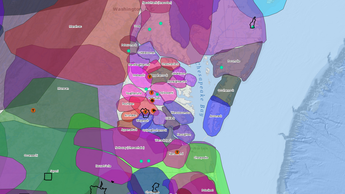 Native Land Digital Maps
Native Land Digital granted permission to the Mid-Atlantic Regional Council on the Ocean (MARCO) to publish the following maps on the Portal:
Historic Native Terrestrial Territories (Not Reservation Boundaries): This map depicts the approximate territories of Indigenous peoples throughout the world. Users may hover their cursors over territories to highlight their geographic extent and click on them for pop-ups containing links for more information about the communities from those areas on Native-Land.ca.
Indigenous Languages: This map depicts the languages spoken by Indigenous peoples throughout the world. Users may click on the polygons for pop-ups containing links for more information about the languages from the areas on Native-Land.ca.
Native-Land.ca does not represent official or legal boundaries of any Indigenous nations. Native Land Digital welcomes suggestions, corrections and contributions to its data at https://native-land.ca/how-to-contribute/adding-maps/.
"These maps are outstanding educational resources that will help our users learn more about the rich diversity of Tribal cultures before Europeans arrived and today," said Virginia Coastal Zone Management Program Manager Laura McKay, chair of MARCO's Ocean Mapping and Data Team. "MARCO extends its gratitude to Native Land Digital for allowing us to make these additions."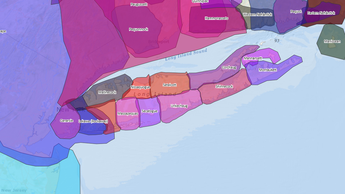 Tribal Lands, Leaders and Contact Info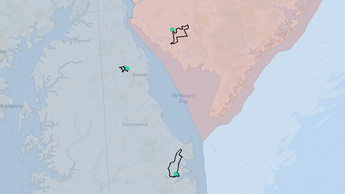 American Indian, Alaska Native, and Native Hawaiian Areas (Including Reservations): This U.S. Census map depicts federally recognized American Indian reservations and off-reservation trust land areas, state-recognized reservations, state-designated tribal statistical areas, and other statistical entities around the nation. Users may click the areas for a pop-up identifying them.
BIA Tribal Leaders Directory: The Bureau of Indian Affairs (BIA) first developed the Tribal Leaders Directory as an internal reference document for employees, but it became one of its most requested documents and is now used by government agencies, news media, businesses, researchers, and the public as a resource to help them connect with Indian Country. Users can click the points on the map for pop-ups containing the names and contact information for the leaders of federally recognized Tribal entities.
EPA Regional Tribal Operations Committee (RTOC) Regions: RTOCs are working committees of U.S. Environmental Protection Agency (EPA) and Tribal personnel. All federally recognized tribes within a region are considered members of the RTOC. Users can click the map for a pop-up containing the name and contact information for the RTOC representative from that EPA region.
Finally, the Tribal Headquarters (State & Federally Recognized) layer, first published by MARCO in 2016, indicates the mail address locations for Tribal headquarters in the Mid-Atlantic states. It has been updated to reflect recent changes, including the addition of the Accohannock Indian Tribe, which gained state recognition from Maryland in 2017. Users can click the points to learn which tribe is based in the area.
The addition of these maps is the latest step in the Mid-Atlantic Regional Council on the Ocean (MARCO) and Mid-Atlantic Committee on the Ocean's (MACO) efforts to incorporate data that better reflects the region's diversity and addresses the needs of stakeholders from a wider set of backgrounds and industries. For more on this commitment, visit the MARCO-MACO Statement on Diversity, Equity, Inclusion and Justice.
For more on Tribal ocean planning issues in the Mid-Atlantic, read the Portal's Ocean Stories profile of Lenape Indian Tribe of Delaware Principal Chief Dennis Coker, "Chief Hopes Offshore Discoveries Are Recorded and Respected."
Share this story