Portal Expands Offshore Wind Map Collection
Nine new map layers depicting offshore wind project areas and infrastructure in the Mid-Atlantic and New England have been added to Marine Planner. In addition, four dropdown categories have been added to the Renewable Energy theme in an effort to organize the growing collection of maps more clearly for users.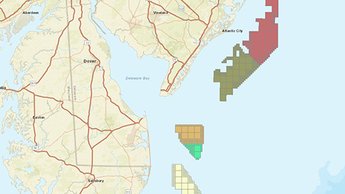 Among the most significant additions is a new map that assigns separate colors to every Bureau of Ocean Energy Management (BOEM) renewable energy lease area in the region (titled BOEM Active Renewable Energy Lease Areas by Lease Number and Company). The map was created to make it easier for users to analyze individual lease areas that are clustered together, such as the Ocean Wind and EDF Renewables sites off the coast of Atlantic City, New Jersey. The previously existing BOEM Active Renewable Energy Lease Areas layer, which depicts all of the lease areas in the same color, will remain available for users. Both maps can be found within the Planning and Lease Areas dropdown.
The new categories of offshore wind maps were designed to present projects in order from the earliest planning stages to the furthest along. The categories are Planning and Lease Areas; Offshore Energy Projects Under Review; Permitted Projects; and finally, Operational Offshore Energy Projects. The Block Island Renewable Energy Zone off Rhode Island is the only offshore wind farm actively generating electricity in the U.S.
In partnership with the Northeast Ocean Data Portal, maps showing the location of the installed turbines and cables for the Block Island Wind Farm and the proposed project envelopes and connecting cable routes for the proposed South Fork Wind Farm and Vineyard Wind projects, off the coasts of Rhode Island and Massachusetts, have been added to Marine Planner.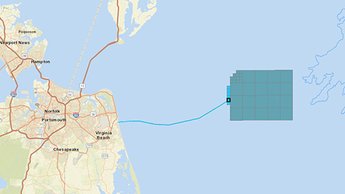 A pair of layers have also been created to show Virginia's offshore wind project in greater detail. The Virginia Offshore Wind Test Turbine Area delineates the aliquot (a square representing 1,200 by 1,200 meters) where two turbines will be operational by 2020. The Virginia Offshore Wind Cable Alignment layer shows the route of a recently completed power line running from the test turbine vicinity to the shore in Virginia Beach.
All cable layers that are associated with wind projects can also be found within the Submarine Cables and Pipelines dropdown in the Maritime theme. 

Share this story